The Wachau is an Austrian enological zone in central Europe. More precisely, it is located in the subzone of Lower Austria.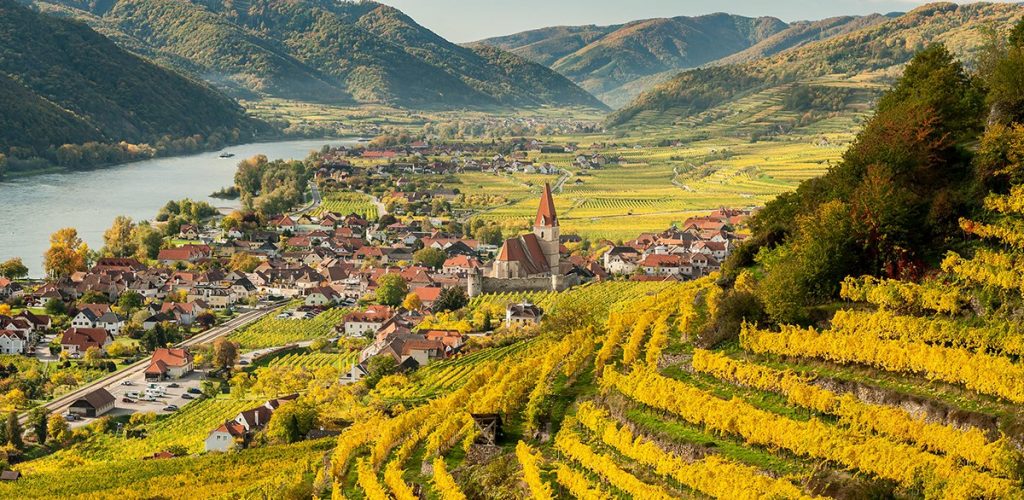 Since 2000 the Wachau is listed as World Heritage sites. In total, the Wachau is made up of about 1344 hectares of vineyards, including the cities of Melk and Spitz. One of the determining factors of the landscape, but above all, of the quality of the wines produced here, is the presence of the Danube. The river is not only capable of reflecting the light and the heat in the cold months, but also helps to mitigate the temperatures in the colder season.

As well as this aspect of fundamental importance, it is necessary to note that in the Wachau different climatic aspects intersect each other (it is a generally continental climate with fresh winds from the Pannonia). The result is an alternation of warm and dry days with cool nights. The geology of the area is rather varied, even if the most common structures are loam, kaolin, and gneiss. The terrain is very steep, so much so that often it must be terraced.


The principal varieties cultivated in the Wachau are:

Grüner Veltliner: white berry married with the Traminer and not related to the Roter Veltliner or the Frühroter Veltliner. With reference to all Austrian vineyard soil, the Grüner Veltliner occupies 29% of the total surface. This grape 0 2 tends to produce a lot; therefore, it must be kept in check, by the vineyard.
Riesling: late white berry that is not related to the Welschriesling. In the Austrian territory, the Riesling does not occupy many hectares, making up 4% of the land. However, in the Wachau, is the second most important grape in the area. Generally, in the cantina, these two varietals are fermented naturally in large barrels so old that they do not give up anything in terms of aromas, taste, or tannins. Since the mid-1980s, most of the vintners are members of the regional association, called Vinea Wachau, that used its own classification system, divided into three categories: Federspiel, and Smaragd.
Steinfeder: the name is derived from a type of grass that grows abundantly in the vineyards of the area. This type includes light wines, in which the alcohol grade never exceeds 11.5%.
Federspiel: the name comes from the practice of falconry and the hunting of a particular falcon that was very common in centuries past. The wines have an alcohol grade between 11.5 and 12.5%.
Smaragd: this category derives its name from a lizard of emerald color that is often encountered in among the vineyards of the area. It regards strong, rich, and complex wines that in many cases manage to age well for decades.