Aglianico del Vulture is an ancient red vine originating in Greece. In fact, it owes its name to the word Elleanico (Hellenic, which comes from Greece) and to the Mount Vulture, the extinct volcano overlooking the whole territory of the province of Potenza, in Basilicata.
AGLIANICO DEL VULTURE 100%
This variety prefers volcanic soils in the middle and high hills. Besides, it fears both the great heat and the autumn frosts: the first one is tempered by the altitude of the vineyards, the second one are rare in its area of cultivation, fortunately.
The diffusion of this vine in vast areas of southern Italy has endowed it with great adaptability to the cultivation zone, and made it develop at least two distinct varieties: Aglianico properly so-called, mainly grown in Taurasi, Campania, and Aglianico del Vulture, from Basilicata. More recently, extensive investigations carried out through DNA analysis allowed to establish that Aglianico and Aglianico del Vulture are actually two biotypes of the same variety, having the same genetic identity. Aglianico del Vulture's grapes are small, with blue-black coloured berries from which full-bodied masses are obtained. But they are also rich in acidity and tannins, which generally need long aging before bottling. The result are wines of intense ruby red colour with garnet nuances. To the nose they usually recall ripe red fruit or jam, and spicy notes as well as balsamic touches are never lacking. To the mouthfeel these wines are deep, sapid, of strong character and suitable for aging, for sure.
Aglianico del Vulture, whose denomination is divided into DOC and DOCG Superiore, was born in the north-eastern territories of Basilicata, amongst the municipalities of Rionero in Vulture, Barile, Rapolla, Ripacandida, Ginestra, Maschito, Forenza, Acerenza, Melfi, Atella, Venosa, Lavello, Palazzo San Gervasio, Banzi, Genzano di Lucania.
The vine area of Basilicata covers a total of 4.000 hectares approximately, of which 47% on mountains, 45% on the hills and 8% in the plains. The territory of these municipalities has the ideal characteristics required by the current Specification for the production of Aglianico, concerning cultivation, production and bottling. Today the wine producing companies are 254, for a total of about 20.000 hectolitres between DOC and DOCG wines.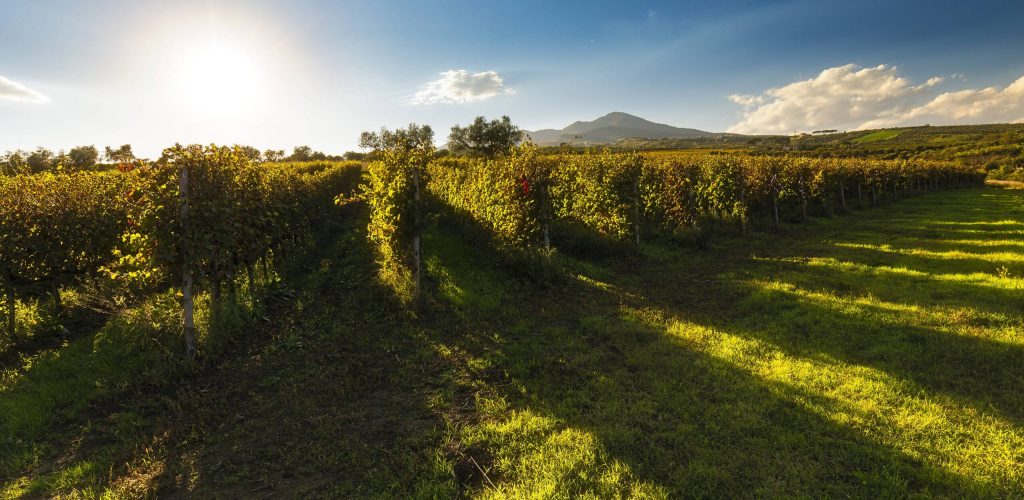 The producing area extends for about 45.000 hectares and 1326 meters above sea level in the territory of Mount Vulture. Nowadays, in the crater area, we find the two lakes of Monticchio, while all around hills of clayey origin between 500-800 meters above sea level lie, surrounded by lush vegetation. Aglianico del Vulture vine has found in this area the perfect characteristics. The igneous rocks of volcanic origin, together with the cool temperate climate and the isolated position, makes this soil particularly fertile and suitable for the cultivation of vineyards, in an enclosed and protected environment. The wine we finally find in the glass is the expression of all these unique pedoclimatic conditions.
Source: ALSIA – Agenzia Lucana di Sviluppo e di Innovazione in Agricoltura.